Wise Dragon is one of the Randomonia Divines. He was created when Spookystorm visited a theme park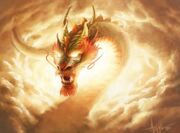 which had a recorded message repeating: "Wise Dragon say, keep your arms and legs inside the boat at all times." Due to the bad English at the beginning, Wise Dragon became famous. However, Wise Dragon's bad grammar was also extended to all plurals and also refers to himself in the third person (like J'Zargo/Panther Guy). An example of using Wise Dragon is: "Wise Dragon say, if you no see you have no eye." 
Dunce Dragon
Edit
Dunce Dragon is Wise Dragon's intelligent cousin. All his sentences have perfect English, but is overshadowed by his 'wise' cousin. 
Ad blocker interference detected!
Wikia is a free-to-use site that makes money from advertising. We have a modified experience for viewers using ad blockers

Wikia is not accessible if you've made further modifications. Remove the custom ad blocker rule(s) and the page will load as expected.